"A quirky little town your grandparents used to bring you to when you were young." "A place that hasn't changed in 20 years. " If that's what you still picture when you think about Branson, MO, you're in for a big surprise this year!
Branson has undergone LOTS of change in the past couple of years from new attractions,  to new shows, and even a bunch of new and delicious restaurants! Branson is anything but unchanged and this new year is no different. 2020 is ushering in all sorts of new and exciting things for you to enjoy! Let's check out what's in store for Branson 2020!
Attractions
 1. Aquarium at the Boardwalk- Opening Summer 2020 –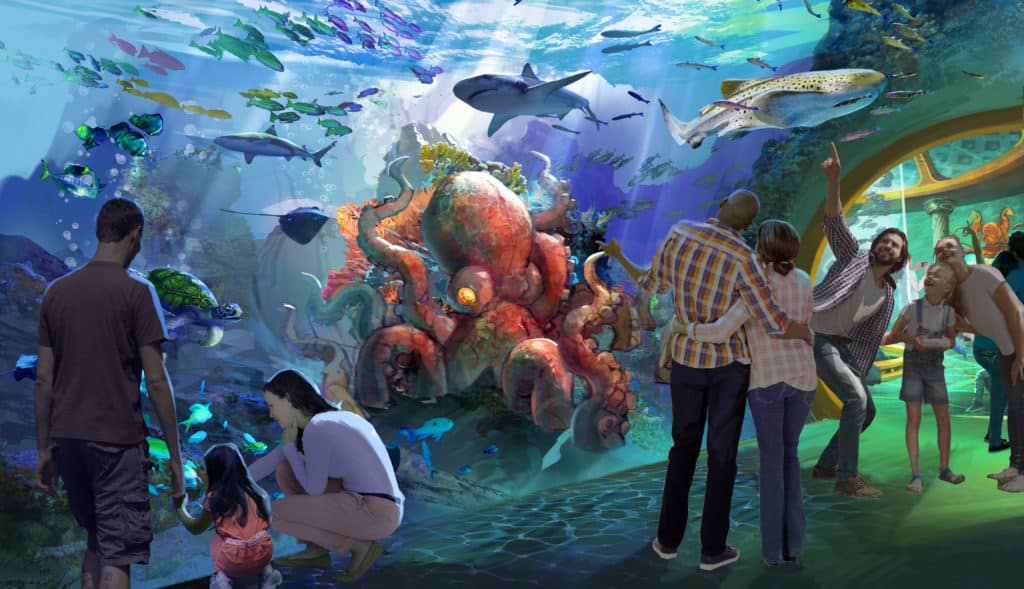 You'll be thrilled and mesmerized by this undersea journey that takes you through worlds teeming with colorful fish, sharks, stingrays, seahorses, and so much more. Along the way, you'll be delighted by playful photo ops, activities, and adventures including meeting a mermaid, exploring a jellyfish infinity room, climbing through a kelp forest, and petting a shark. Finally,  you'll splash below the surface on an exciting Submarine Voyage to your final glorious view of the Coral Reef. Aquarium at the Boardwalk is in the first phase of development at Branson Boardwalk, an emerging destination for shopping, dining, and fun at the center of the Highway 76 Entertainment District.
 2. Mystic River Falls at Silver Dollar City-

This $23 million investment will be a River Adventure that is themed to the history and legend of the great Marvel Cave, which was the catalyst for Silver Dollar City six decades ago. You will splash through nearly a half-mile scenic journey, navigating hairpin turns, high tides and a hidden mine shaft on more than a 5-minute trek. Then, you will ascend a more than 8-story lift tower, exposed to the open air as the rafts rotate during the climb! The rotation elevator lift of 4 platforms is unique to this ride and will be the only one like it in the world to go up so high. Finally, race down and through the ride's queue building, braving the tallest raft ride drop in the Western Hemisphere! Mystic River Falls will be the highlight of a new themed area of the park, Rivertown, where 1880s townfolk are caught up in a high-spirited celebration, representing Silver Dollar City's Diamond Jubilee. The all-new Rivertown Smokehouse, the largest dining investment in the corporation's history, will serve the park's famous BBQ plus new favorites, providing 450 viewing seats along the banks of the Mystic River.  Tickets for Silver Dollar City will be available with Branson.com soon, so be checking back on our Attractions page frequently to secure your spot on Mystic River Falls!
3. WonderWorks Indoor Amusement Park 

WonderWorks, a science-focused indoor amusement park, combining education and entertainment. With over 100 hands-on exhibits for all ages to explore this is an exciting addition to Branson's famous 76 Strip.  Feel the power of 71mph hurricane-force winds, make huge, life-sized bubbles, experience zero gravity in an Astronaut Training Gyro, or Lie on a Bed of Nails- it's all available at the incredible, wacky world of WonderWorks! Opening Spring of 2020, this is one attraction you don't want to miss on your next trip to Branson!
4. Payne's Valley Golf Course at Big Cedar 

Paying tribute to Ozarks-native and World Golf Hall of Fame member, Payne Stewart, Payne's Valley will be the first public-access golf course designed by 82-time PGA TOUR winner Tiger Woods and Woods-led golf course design firm, TGR Design. Payne's Valley will stand out with its inviting layout, pristine water features, large fairways and greens, and spectacular 19th hole…the Big Rock at Payne's Valley™. Through the creation of Payne's Valley, Tiger Woods and Big Cedar Lodge will offer a course where players of all skill levels will be able to enjoy the game with each other in the beautiful Ozark Mountain landscape.
 Shows
1. Noah The Musical at Sight and Sound Theatre

Noah the Musical brings to life the Bible story you think you know! With a catastrophic storm on its way, one man is given a monumental task: build a boat big enough to save his family from a flood that will cover the entire earth. But they won't be alone! Returning for one season only, this landmark production takes you onboard one of the world's best-known voyages, as over 100 live and animatronic animals fill the stage and aisles. Set sail inside the enormous ark as this extraordinary Bible story comes to life all around you! Noah made its debut back in 1995 and is the first of Sight and Sound Theaters epic biblical productions. Make your plans and get your tickets for this incredible production today!
2. Anthems of Rock at King's Castle Theatre

Anthems Of Rock – Branson, are you ready to rock? A spectacular new show bringing the number one hits from some of the most famous bands of the 20th century, including Queen, The Beatles, The Rolling Stones, Bon Jovi, Led Zeppelin, Journey, Aerosmith, and many more. The show also features wonderful tributes to Elton John's film "Rocket Man" and Queen's award-winning film "Bohemian Rhapsody" showcasing the greatest hits of these legendary performers. This exciting, high-energy production will have you singing along to the greatest rock hits of all time! Shows start in March for its debut season in Branson, but tickets are available here now.
3. Up Close Concerts featuring Amy Grant, Micheal W. Smith, and More

Up Close Concerts will host several one-night-only special concerts in Branson this year to include Amy Grant, Micheal W. Smith, Phil Vassar featuring Billy Yates, Ronnie McDowell, Pat Boone featuring Billy Dean, and more! Venues include Dick Clark's American Bandstand Theatre, Welk Resort Theatre, and Juanita K. Hammons Hall in Springfield. Tickets and more information are available here.
Dining
1. Mellow Mushroom at the Branson Landing

Mellow Mushroom stone-baked pizzas are made with the classic Mellow crust, prepared specially with Appalachian spring water. In addition to stone-baked pizzas, Mellow Mushroom serves munchies, salads, sandwiches, and burgers. Pick from a selection of 24 draft beers or a tasty, handcrafted cocktail. Plus! Many of our pizzas can be made gluten-free or vegan! Mellow Mushroom opened June 10, 2019, and is ready for its rockin' season two in 2020, so come check them out!
2.Paula Deen's Family Kitchen at the Branson Landing

At Paula Deen's Family Kitchen, guests will enjoy classic Deen family recipes in a unique family-style setting just like they do in their very own homes. We serve up endless portions of Southern-Style entrees and side dishes, and every visitor ends their meal with a dessert of their choice! Our restaurant brings friends and families together over a meal while offering up a one-of-a-kind dining experience you're sure to remember. Come get your southern supper on in Branson- the Family Kitchen is now open!
3. Guy Fieri's Guy's Branson Kitchen + Bar at the Branson Landing

NEW FOR 2020! "I'm all about great food, good times and big fun so to be able to partner up with folks like FACE Hospitality is a perfect opportunity to bring it all together in one place…Branson!," said Guy Fieri in the press release regarding his new restaurant addition at the Branson Landing slated for opening this summer. The menu will showcase Fieri's signature, bold flavors with featured items like his Trash Can Nachos, award-winning Bacon Mac N Cheese Burger and Bourbon Brown Sugar BBQ Wings. Additional menu items with include signature sandwiches, scratch-made entrees, house-smoked meats, as well as desserts, such as the Pretzel and Potato Chip Covered Marbled Cheesecake, according to the press release. Big Eats await in Branson 2020, so make your plans now!
There you have it, folks! Some awesome experiences await you in Branson this year, so make the most of your memories and start planning your best Branson vacation now.
Branson is waiting, are you ready?