Are you looking for the best places to stay in Branson?
Hotels in Branson can suit all tastes and budgets. We have listed some of the best fan-rated hotels.
Many family adventures await you and your family in Branson, Missouri! You'll find unique attractions, impressive live shows, shopping, dining, and outdoor adventures. We promise you won't be bored.
Your most significant savings will come from bundling accommodations with tickets for attractions and shows. As Branson's premier ticket seller, we buy rooms at special rates to provide deals and concierge services without additional fees or markups. With Branson.com, you don't pay more; you get more. View our vacation packages and save!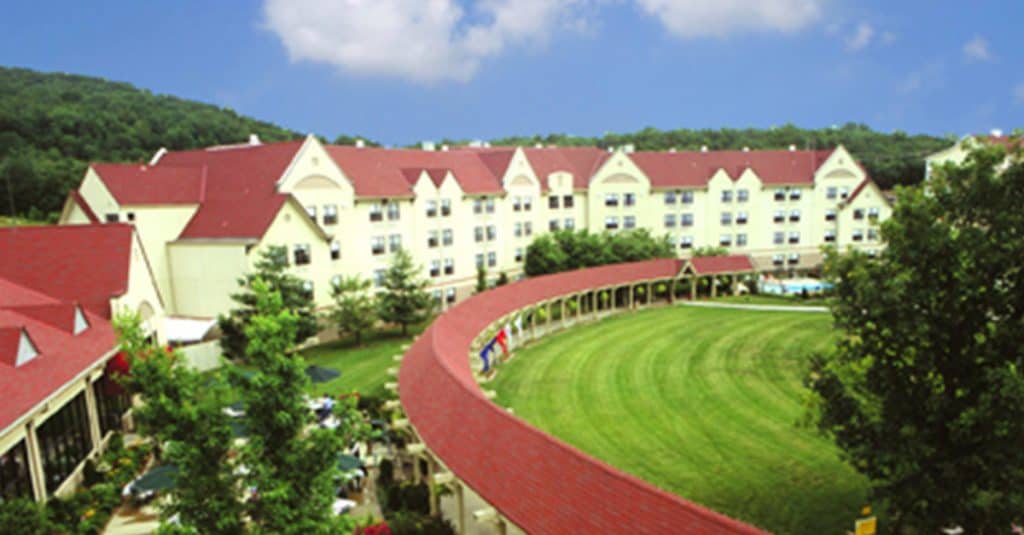 You will enjoy the stunning views of the Ozarks hills near Table Rock Lake. However, you will be just a few minutes from Branson's famous Strip and all the exciting attractions and shows there! Earlier this year, the hotel renovated and updated its deluxe and traditional rooms with modern amenities, high-end finishes, and colorful, inviting decor reflecting Ozarks' unique charm. This hotel's interior design reflects Branson's warm and welcoming culture, which keeps people coming back year after year!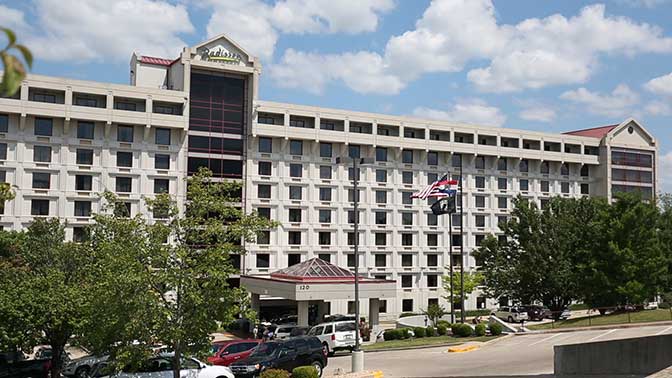 The Radisson Hotel is one of the hotels on the strip in Branson and offers guests a wide range of amenities, both in-room and throughout the hotel. With an indoor/outdoor pool, guests can enjoy swimming all year long, and popping out of the warm water into the cooler air of winter is a unique experience. In addition, guests can enjoy a sauna, a whirlpool, and a top-notch fitness center. Recent renovations to the hotel have resulted in beautifully appointed guest rooms, meeting space, comfortable lobby seating, and dining areas.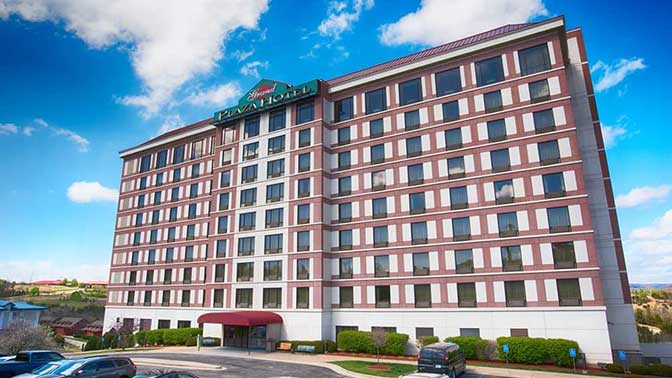 The Grand Plaza Hotel is conveniently located in the heart of all the attractions, lakes, golf courses, and more! The hotel is on the strip and next to Tanger Outlets. As part of the luxurious lodging amenities, there is an indoor pool, hot tub, fitness room, and game room.
In addition to a honeymoon suite with a garden whirlpool tub for two people and a kitchenette, the hotel has a family unit featuring two bedrooms, each with an en suite bathroom and a king bed. Also available is a meeting room for up to 150 people, a business center, and the excellent Plaza View Restaurant at the top of the Grand Plaza Hotel. There are 200 comfortable and luxurious rooms featuring microwaves, refrigerators, WiFi, and more!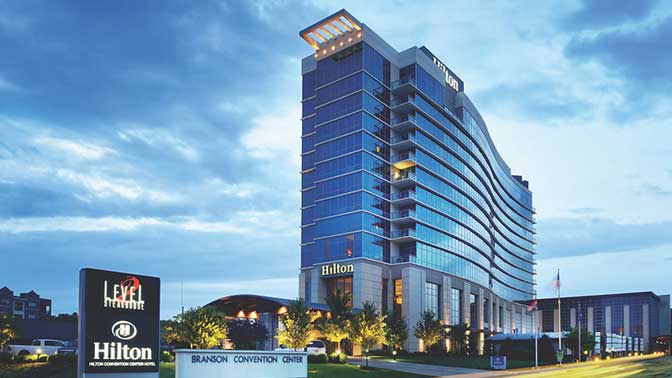 The Hilton Convention Center Hotel embraces the rustic natural beauty of the Ozarks with its recently renovated decor. It beautifully combines it with the elegance you've come to expect from a Hilton hotel and all Branson hotels. There is a long list of high-end amenities at the AAA Four Diamond Branson Hilton Hotel, which offers views of Lake Taneycomo and the rolling Ozark Mountains.
Branson locals love Level 2 Steakhouse at the Hilton because its unique menu features many items made from locally sourced ingredients. The lobby has a lively cocktail lounge as well. Additional amenities include indoor and outdoor pools, a fitness center with free weights and cardio machines and televisions, and a well-equipped, 24-hour business center with computers, a copier, and a fax machine.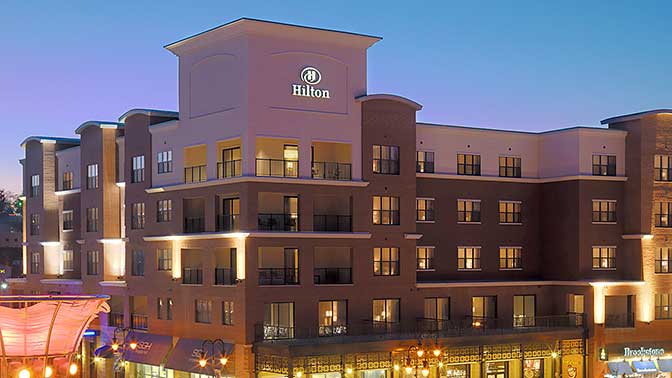 With a gorgeous view of Lake Taneycomo, the Hilton Promenade Hotel is your top choice for lodging in Branson! This lakeshore runs through Branson like a river, and in Branson Landing, the Hilton is the centerpiece of this shopping and dining destination.
The hotel rooms offer magnificent views of the Branson Landing and the lake beyond; great for people watching! The Landing is home to free concerts and stunning water and light show set to music, so you'll never run out of things to do! There's also the charm of Historic Downtown Branson; filled with shops, cafes, and shows, it's a pleasure to walk around for a few hours.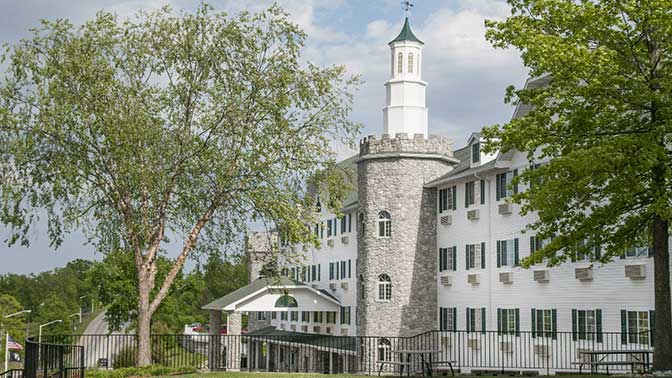 The Stone Castle Hotel is one of Branson's most unique hotels, with an array of amenities available throughout the property. The luxury 300-room hotel is impressive to look at from the street. The standard rooms are spacious, and the Jacuzzi suites are beautifully decorated.
There are also several handicapped-accessible rooms, three kitchenette rooms, and four two-bedroom suites. Most of the suites are designed to make you feel as though you've traveled to an exotic location, and all feature pillow-top beds and everything you need to feel comfortable! A gazebo, a drawbridge over a scenic pond, and picnic areas are among its outdoor features.
It was a challenge to pick just a few hotels in Branson because there are so many beautiful places to stay. Check out our website for more great lodging options.  
Visit Branson.com for more information on attractions and shows. So many things to do in Branson that your family will love!
View all hotels in Branson be visiting our Lodging Page.
For some of the BEST Lodging and hotels in Branson, click here. Branson is full of the best lodging options.