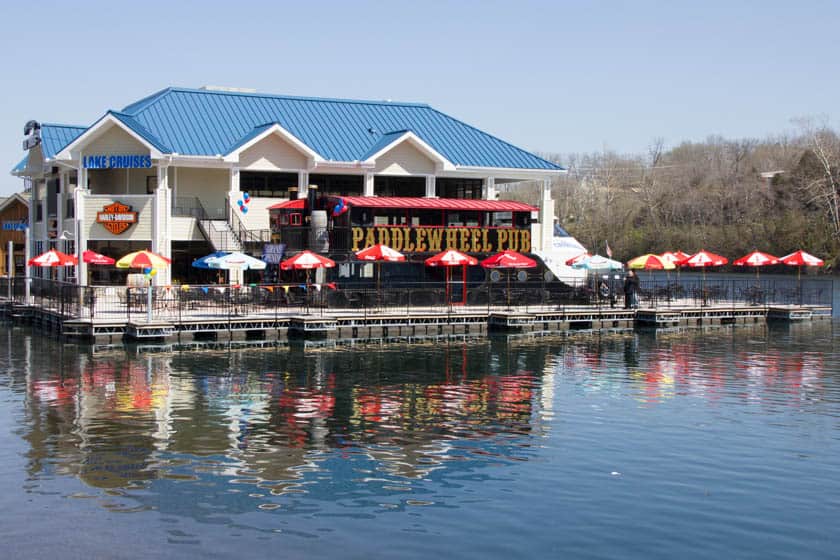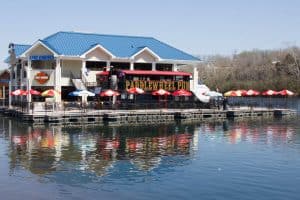 BRANSON, MO, April 1, 2013 — "The Grand Opening of the "Paddlewheel Pub," floating on Lake Taneycomo in the shadow of the Branson Landing Fountain, offers locals and Branson Visitors alike a unique, new and fun filled way to relax, eat and drink. "Where else in Branson can a family walk out and sit together on a 'floating patio' amid the wonder and beauty of Lake Taneycomo and enjoy lunch together?" Larry Milton, co owner of the "Paddlewheel Pub" with his wife Lianne, rhetorically asked?
Located at the Main Street Marina in Branson Landing, the "home port" of Main Street Lake Cruises, both of which are also owned by the Miltons, the "Paddlewheel Pub" floats in Lake Taneycomo and is directly accessible from the Branson Landing Boardwalk. Milton said, "The opening of the 'Paddlewheel Pub' is another step in making the Main Street Marina an exciting 'one stop' activity destination from which everyone can see, experience and enjoy one of Branson's most precious aquatic gems, 'Lake Taneycomo.'"
Whether sitting outside on its patio or inside looking through its large windows, the pub provides prime seats from which to view the Branson Landing Fountains, including its spectacular $7.5 million synchronized fire, water, light and music show. They are also an excellent vantage point from which to watch the water fowl and boat traffic on Lake Taneycomo, including Main Street Lake Cruises Lake Queen and Landing Princess; watching people walk along the Board Walk or simply relaxing while sampling some of the pubs unique fare.
Following the nostalgic riverboat theme of the Main Street Marina and Main Street Lake Cruises, the Paddlewheel Pub maintains its riverboat heritage and is "Simple Fun and Yesterday's Foods." It features "Nathan's Famous" hotdogs and menu items and Paddlewheel Pub specialty items, along with drinks ranging from milkshakes and soft drinks to a full bar service including "moonshine."
The pub offers the most complete menu of "Nathan's Famous" items in Branson including a variety of Nathan's Famous hotdogs ranging from their "World Famous" original hotdog to "Chicago Dogs," Nathan's World Famous Krinkle Cut Fries, Chicken and Philly Cheese Steak sandwiches, Pretzel Dogs, Corn Dogs, lemonade and orangeade and much more. In addition, the menu contains a separate section containing a selection of Paddlewheel Pub Specialty Items including a variety of simple fun foods. These include sandwiches such as Gourmet Grilled Cheese, Peanut Butter and Jelly and Fried Bologna, and among others, Strawberry Bleu Cheese Salad, Paddlewheel Mac-n-Cheese, Old Fashioned Tomato Soup, Paddle Wheel Wings, Fried Pickles, and much more.
The Paddlewheel Pub offers full fountain service featuring Coke products. In keeping with its "simple fun and yesterdays foods theme" it also serves some drinks not commonly found in pubs such as milk shakes, root beer floats and, Nathan's Lemon and Orange Ade.
The Pub offers an extensive selection of bar beverages and beers. In addition, it includes local specialty beers from Mother's Brewery and White River Brewery and "Moonshine," "Whiskey" and "Rum" from the locally operated "Copper Run Distillery" along with a wide selection of "frozen" and other beverages.
Whether it's a group just wanting to sip a drink as dusk settles over Lake Taneycomo and watch the Branson Landing Fountain show, a family looking for a relaxing lunch or a milkshake and a soda while comfortably sitting on the patio experiencing the peace and beauty of Lake Taneycomo or someone looking for a quick snack, the Paddlewheel Pub provides the ideal place to do it. For more information on the Paddle Wheel Pub please call 1-417-239-3980.