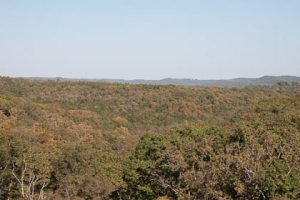 "With the recent colder weather, the Ozarks foliage in and around Branson, Missouri is about to burst into its annual fall show of vibrant colors," said Tammy Johnson, the Director of Operations for the Branson Tourism Center. From Silver Dollar City to Forsyth it is a unique, beautiful and fleeting thing to behold."
On a recent fishing trip up Lake Taneycomo, this writer noticed the flush of color about to break through in a sea of foliage. Were he a betting man he would bet that with one or two more cold nights, it will really start breaking out over the next week and be in its full magnificent glory within the next two weeks.
Johnson said, "One of the questions we are asked the most often at this time of year is what is the best way to see the foliage?" She says, "The answer is, any way you want to because just about anywhere you turn in the Branson area will reveal one of nature's greatest Ozark shows."
One way is simply by driving around Branson. One trip, that incorporates two of Branson's lakes into the experience is to take the Ozarks Mountain Highroad, State Highway 465, from its junction with Highway 65 to its terminus at Highway 76. Go west on Highway 76 then east on Highway 265, over the Table Rock Dam and stay on Highway 165 when Highway 265 splits off south of the Dam. Along the way you will see beautiful vistas and millions of leaves in every stage of color, vibrancy and hue.
The Overlook on Highway 165, just after it splits off from Highway 265, provides a spectacular panorama including Table Rock Lake, Lake Taneycomo, Table Rock Dam and the beautiful Ozarks foliage. While at the Overlook don't miss the view looking down stream on Lake Taneycomo.
Johnson points out that there are a few of ways to get a special view of the Ozark foliage coupled with some of Branson's many attractions. There are two cruses that provide a unique vantage point from which to view the foliage. Two provide a view of the shoreline from a lake cruise perspective, the Showboat Branson Belle on Table Rock Lake and the Lake Queen on Lake Taneycomo. Another unique way to experience the fall foliage while seeing a part of the Ozarks that most people never see is an excursion on the Branson Scenic Railway, while reliving the memories of a by-gone era riding aboard vintage railroad cars from the 40's and 50's.
"Without a doubt, Silver Dollar City's coaster 'Wildfire' provides one of the most exciting, unique and unusual ways to view, not only the Ozarks foliage, but foliage anywhere," Johnson continued. "Imagine viewing some of the most beautiful foliage in the world while riding a world class coaster and actually seeing a finger of Table Rock Lake surrounded by brightly colored foliage before dropping down 135 feet and looping upside down five times as you go into the woods and are surrounded by the foliage. There is nothing like it on the planet! And that's just one of the things to do at Silver Dollar City during their National Harvest Festival where you will be surrounded by fall foliage."
Johnson reminds potential visitors to Branson that from now until the middle of December is one of the busiest times of the year and suggests advance reservations to ensure not only the availability of show seats and lodging accommodations, but getting the best seats and accommodations to meet your desires or needs. She suggests contacting the company she works for, Branson Tourism Center (BTC), one of Branson's largest and most respected vacation planning services.
She points out that even in the busiest of times, because of the relationships BTC has with their vendors, it can get access to the best seats and accommodations available in Branson and that there is never a service charge of any kind for their service. BTC can be reached by either calling their toll free number 1-800-785-1550 or through their website www.BransonTourismCenter.com.