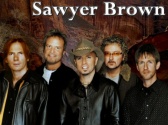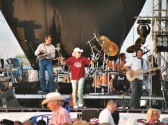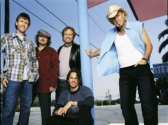 Sawyer Brown
Call Branson Tourism Center at: 1-800-785-1610
Sawyer Brown, one of the most beloved and groups in country music will take to the
Oak Ridge Boys Theatre stage for one high-energy show on Friday, September 19th.
Known for hits such as "Betty's Bein' Bad" and "Step That Step," Sawyer Brown has been a fan favorite since the 1980s and is a mainstay of the country-music scene. The group has three certified gold albums and one certified platinum album to its name, and three Sawyer Brown songs have reached No. 1 on the country charts with its 19 top-10 singles.
After 23 years, 3500+ shows, gold and platinum albums, a smattering of awards and more long odds than any act you can think of, Sawyer Brown remains a band you can count on. Never one to get above their raising, they have a deep appreciation for the heart of small towns, rural realities, lived in common places and truths so basic they go unnoticed.
Opening with the explosive "Mission Temple Fireworks Stand" and its guest turn by acclaimed steel guitar wizard Robert Randolph, the band's latest projects the energy of their hyper-adrenalized live performances. In turn, the album's lead single "They Don't Understand" issues a heart-rending plea for compassion that has already compelled a humbling outpouring of emotion from listeners.
This wide-ranging facility with words, music and performance is no accident, but the culmination of hard work and devotion applied to a healthy measure of innate talent. Greg "Hobie" Hubbard on keys, bassist Jim Scholten, drummer Joe Smyth, newly-inducted guitarist Shayne Hill and frontman, vocalist, principal songwriter, producer, and frenetic showman Mark Miller comprise a uniquely positioned band - one that is fully-realized and phenomenally accomplished, but possessed of a refreshing hunger to keep proving themselves.
Their discography contains dozens of hits, among them "Some Girls Do," "The Cafe On The Corner," " The Dirt Road," "This Thing Called Wanting (And Having It All)," "The Boys & Me," "This Night Won't Last Forever," "Thank God For You," "The Walk," and acclaimed covers of George Jones' "The Race Is On" and Dave Dudley's "Six Days On The Road."
Crowds are never disappointed with this high-energy show that entertains fans of all ages. Don't miss your one opportunity to see them in Branson this year.